InsaneJournal.com is a social media creation website that allows you to create an online journal or a diary and manage a great online presence with diary entries, calendars, notifications, collections of friends and related matter. The great characteristic of this site is its simplicity and no frills approach to social interactions.
Every diary or journal needs to have an audience. Even if you think what you write is for you alone, sooner or later the creative bug will bite and you will want to showcase your skills for the world (or a group of friends) to see.
The only way of knowing whether the world is indeed seeing what you produce is by gathering real time statistics about your viewers. Where are they from, what pages do they visit, how long do they stay and so on. This is where TraceMyIP steps in to support your literary activities.
Generating real time statistics using TraceMyIp
If you already have an TraceMyIP account, login into that and select "Add New Project", else follow this link to learn how to register an account and then add the new project. Use the URL of your InsaneJournal page to generate the real time statistics counter code on TraceMyIP.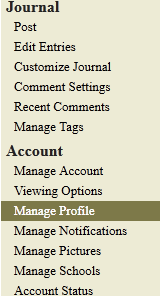 InsaneJournal does not accept JavaScript due to security reasons. In the "Code Type" drop down list select Universal Tracker - HTML compatibility mode 1 and generate the code. Copy the code to the clipboard and switch back to the InsaneJournal tab.
Installing the real time statistics code for InsaneJournal.com
Go to your home page - typically www.yourname.InsaneJournal.com/profile and select the Manage Profile option in the list on the left panel
This will give you a form on the other half of the page where you can enter a number of details about yourself and enter a short bio data.
The bio data field accepts HTML. Paste your code here and save the new profile.
The TraceMyIP code is safely inserted in to your profile page and the tracker begins to show .
Verifying the click counter code installation
Once you have followed the steps above to install your click counter code, you need to ensure that the tracker code is installed properly.
Visit the section(s) of your website and verify that the tracker image shows up as intended. If you are a premium subscriber, disable the invisible tracking option first, then visually verify your tracker installation.
Additionally, you can check if your own visits are being properly logged. If you are blocking your own visits from being logged by the tracker, disable the auto IP blocking feature first.