Hoop.la is a great Software as a Service site that provides you with the capability to create not only your own social media page but an entire social media site of your own - fully customized and distince just the way you want it. You can attract unlimited members and build an amazing presence. Since the entire site is hosted on a cloud platform, there is no shortage of space or processing power. Who knows? - you could be building the next facebook.
If you are building a social site on Hoop.la, traffic will be a prime consideration. Traffic statistics will determine the success of your site and eventually the revenue it will go on to generate. It is important to record your traffic statistics unobtrusively but at the same time build comprehensive and detailed records. TraceMyIp.org provides with the tools to record and understand your traffic statistics. Installing a TraceMyIP visitopr statistics counter is simple and straightforward as this tutorial will show -
Generating a visitor statistics counter using TraceMyIP

If you already have an TraceMyIP account, login into that and select "Add New Project", else follow this link to learn how to register an account and then add the new project. Use the URL of your Hoop.la page to generate the click counter code on TraceMyIP. Typically, the URL of your page will look like - www.yourname.hoop.la
In the "Code Type" drop down list select Universal Tracker - HTML compatibility mode 1 and generate the code.
Copy the HTML code to the clipboard and switch back to your Hoop.la page.
Installing the visitor statistics counter on your Hoop.la page

Go to your Hoop.la home page. Just below your user name you will find a number of menu items to manage your Hoop.la presence.
Select Manage --> Admin Control Panel

The Admin control panel will open up and give you an administrative panel on the left of the home page. Select the Basic Settings tab. This will open a number of text boxes on the center of your home page where you can enter text to customize the page.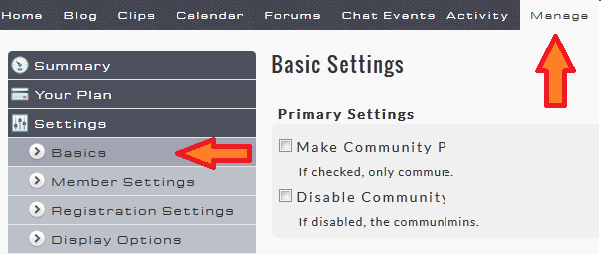 The last text box on this page is reserved for a custom footer.
Paste the HTML code that you had generated at TraceMyIP to embed the visitor tracker. Save the settings and exit the Basics settings page.
If you now visit your home page, you will find that the footer will show your selected visitor counter.

Verifying the click counter code installation
Once you have followed the steps above to install your visitor counter code, you need to ensure that the tracker code is installed properly.
Visit the section(s) of your website and verify that the tracker image shows up as intended. If you are a premium subscriber, disable the invisible tracking option first, then visually verify your tracker installation.
Additionally, you can check if your own visits are being properly logged. If you are blocking your own visits from being logged by the tracker, disable the auto IP blocking feature first.