DreamWidth Studios (dreamwidth.org) is a popular stop for writers, artists and other creative people to express themselves and to share their thought and ideas. While the creative process is in itself reward enough, you no doubt want to know if what you create is being seen by others, how often and from which part of the world. This is where TraceMyIP comes in.
To trace the visitors to your DreamWidth journal, complete the DreamWidth registration process and login to your account.
If you already have an TraceMyIP account, login into that and select "Add New Project" else follow this link to learn how to register an account.
Generating a visitor tracker code
TraceMyIP has DreamWidth characteristics in its database. Simply select it from the "Code Type" drop down list and generate the code. Copy the code to the clipboard.
Installing the tracker code for DreamWidth
Switch to your DreamWidth account and from the "Organize" option select "Customize Style".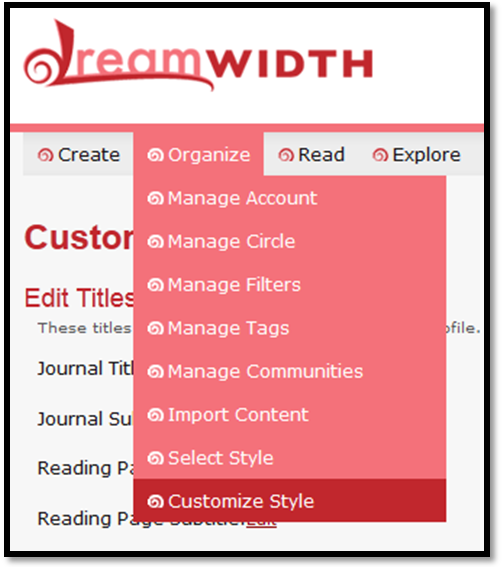 This leads you to a "Customize Your Theme" panel where you select the "Modules" tab.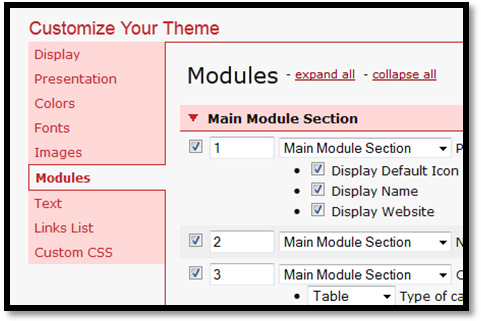 Go down the list of the "Main Module Sections" till you come to "Custom Text" – currently opposite serial # 13. The snip below shows the changes you have to make – select the check box and pick "Main Module Section" from the list box.

Select the "Save Changes" button at the bottom. Just one more step and you are done.
Now select "Text" from the list of tabs on the left – it is just below the "Modules" tab.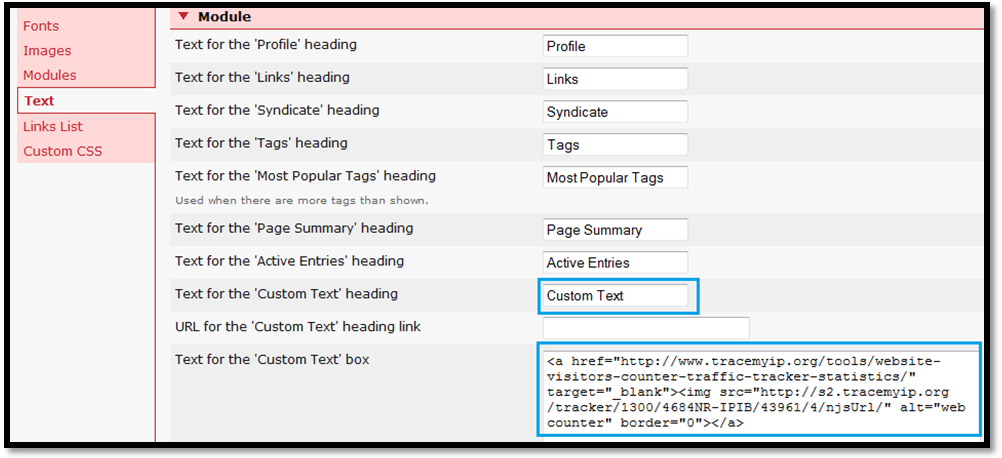 In the text box at the bottom paste the HTML code generated by the TraceMyIP website. If you wish you can change the title that will appear above the IP Tracker from "Custom Text" to something else.
Select "Save Changes" at the bottom of the page and the tracker is installed on your journal.
A simple way to check if the tracker is working is to create one or more new journal entries. The tracker you selected will show up on the left of the page under the "Custom Text".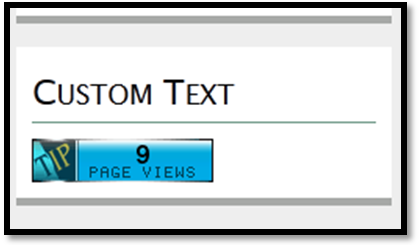 If you now refresh your TraceMyIP account, the DreamWidth site you just commenced tracking will show up in your "My Projects" tab.
Verifying the tracker code installation
Once you have followed the steps above to install your visitor tracker code, you need to ensure that the tracker code is installed properly.
Visit the section(s) of your website and verify that the tracker image shows up as intended. If you are a premium subscriber, disable the invisible tracking option first, then visually verify your tracker installation.
Additionally, you can check if your own visits are being properly logged. If you are blocking your own visits from being logged by the tracker, disable the auto IP blocking feature first.
Once adequate data has been collected, you can move to analysis. But that is another subject. We will discuss that in another tutorial.