Justin.tv is an important social media tool that allows you to create live video and display it to anyone around the world. You can both broadcast and watch live video and chat with other viewers who are on line. When you create a channel on Justin.tv, it is something personal to you that you can share with others or keep private to a select group. By installing a TraceMyIP tracker, you can find out who is viewing your channel, what parts of the world they are from and how much traffic you attract.
To generate a tracker for your page, log in to your justin.tv page and copy its URL.
Generating a visitor IP tracker code
If you already have an TraceMyIP account, login into that and select "Add New Project", else follow this link to learn how to register an account and then add the new project.
In the "Code Type" drop down list select Universal Tracker - HTML compatibility Mode 1 and generate the code.
Copy the HTML code to the clipboard.
Installing the tracker code for justin.tv
Click the tab with your user name on your justin.tv page and select "Accounts" in the Settings panel as shpown below -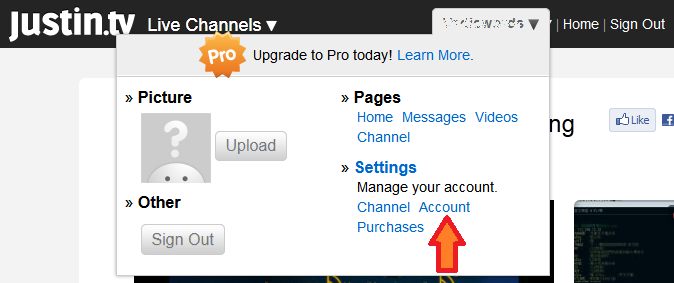 This will lead you to a screen where you can edit your account preferences. On the left panel, there are tabs for Account, Channel and Purchases. Select the Channel tab. You will get several text boxes on the right where you can write small bits of information about yourself. The largest box is the "About Me" box. This box accepts HTML. Paste the code you had generated at TraceMyIP in this box and select Save at the bottom of the page. If you wish, you can also enter any other test in the About Me. The functionality of the section is not affected by the tracking code.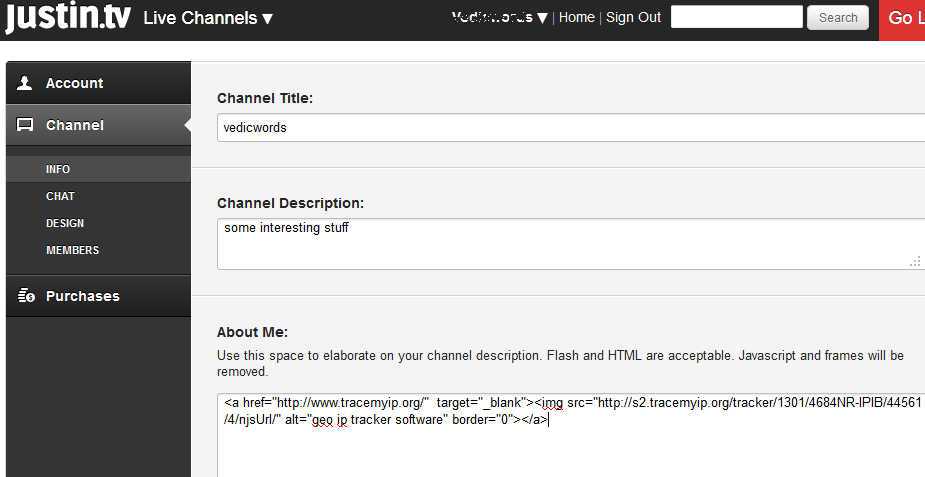 The above action inserts the tracing code in the About Me section of your channel.
Verifying the tracker code installation
Once you have followed the steps above to install your visitor tracker code, you need to ensure that the tracker code is installed properly.
Visit the section(s) of your website and verify that the tracker image shows up as intended. If you are a premium subscriber, disable the invisible tracking option first, then visually verify your tracker installation.
Additionally, you can check if your own visits are being properly logged. If you are blocking your own visits from being logged by the tracker, disable the auto IP blocking feature first.
Note
There appears to be a bug in Justin.tv right now that is not allowing the code to be saved. However there is a workaround to this. This is as follows -
login to twitch.tv with your justin.tv user name and password.
Click on profile name / settings and enter the code under Long Bio section.
The code will appear in the "About Me" section of justin.tv in a few minutes.